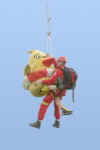 Prague Monitor reports winter climbers in the Czech Republic can pay $52 to guarantee helicopter rescues.

Delta System Hems is prepared to offer the service to travellers to the Krkonose and Orlicke mountains and hopes to soon offer it for all of Europe.
People can enroll in the OK-Ambulance project via the Internet. The annual fee for an adult will be roughly CZK 1,300(US$52) and roughly CZK 3,000 (US$120) for a family. Enrollees will receive a card with an identification number that they will use when chartering a helicopter

Posted in Europe, First Aid, Helicopter Rescues by roger with

comments disabled

.